(This blog may not be suitable for younger readers)
On a whim I stopped at a dumpster that has never yielded anything useful. What was there I have never seen before. It was snack heaven. Trembling with delight I jumped into the dumpster and frantically gathered arm-fulls of crackers, cookies, and cheeze-its. It was broad daylight, I remember some kids on the way home from school stopping to point and laugh. There was no time to care. My truck was running and I didnt want to get caught.
Here is an estimate of what I found:
8 boxes of Cheese-its (white cheddar and sponge bob shaped)
10 boxes of Zesta saltine crackers
6 boxes of Club crackers
4 Boxes of Honey Graham crackers
6 packages of assorted Keebler Cookies
8 boxes of Yogos fruit and yogert rolls
4 boxes of Rice Crispy Treats
In all 5 large cardboard boxes were filled with snacks and was on my way. My friend Chris from
The Grammarians
came back with me and helped load the truck.
The exceptional thing about this score is that the packages on top of the pile, were un-opened and newly expired. Some of my friends who normally find dumpstered food revolting were quite excited to take some of these snacks home.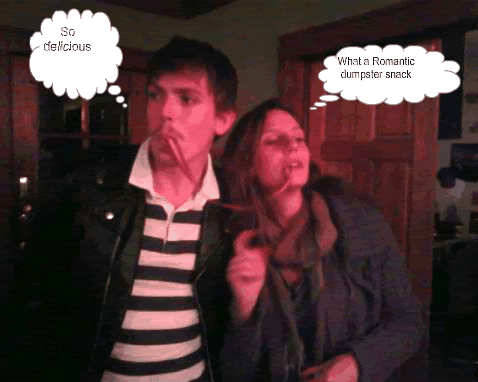 Pictured above is my fellow dumpster warrior Levi. We always share what we find with each other and our friends and neighbors.

A couple of days later a refrigerator at our friends gas station broke. Making us the beneficiaries of several packages of BBQ Burritos, Turkey Corn Dogs, Jalapeno poppers, and Egg rolls. After working a stage hand gig, Levi and I returned home to feast on BBQ Burritos and left over Wedge Pizza.
This food is just as good out of a toaster as from a deep fryer, in my opinion.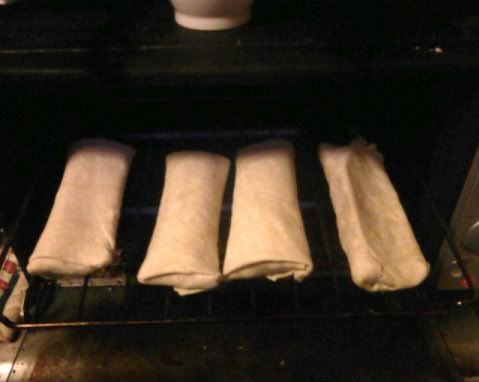 Since the last post I've managed to eat every meal for free. Lucky dumpster scores, and generous friends and family have kept me well fed. My room mate Megan and I went on a dumpster run last week and came home with enough food to last up to now. The abundance of food lately has made keeping a detailed log time consuming and difficult. From now on "Eating America" will be less daily food log, and more to a guide to how I live as a freegan.
Here's some of what we found.

Fresh Produce, Bread, Home made Lasagna, red potatoes, and Oklahoma Cheese (a little moldy)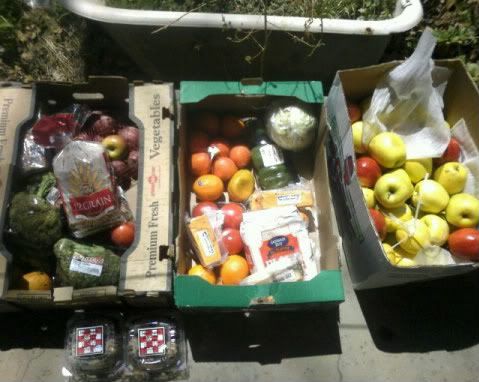 Krispy Creme Doughnuts!!!!! all we could carry.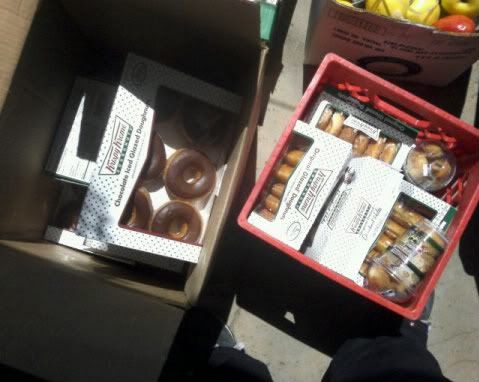 We could have made off with more if not for a stupid Rent-A-Cop.
On this night like any other night we came up empty handed in some of the dumpsters we jumped in. However in one foodless dumpster fortune smiled upon Megan and I. We found a trashbag full of Porno DVDs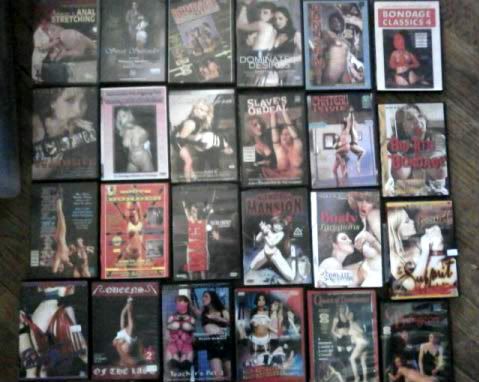 25 Bondage DVDs to be exact. Someone thought that their secret was going away for good. My apologies to whoever threw this smut out. Bondage isnt really my thing. If anyone out there is interested in adding these videos to their collection shoot me an email to let me know. They are previously viewed but in pretty good shape. One had a price tag of 39.99 on it. I cant believe someone threw them out. Titles include Doing Chyna (From the WWF), Sweet Surrender, and Big Tits in Bondage.


Food Highlights from the past 2 weeks:
These are potatoes I used to make Mashed potatoes for my friend Davids cook out. Thanks David, the 7 different meats were badass.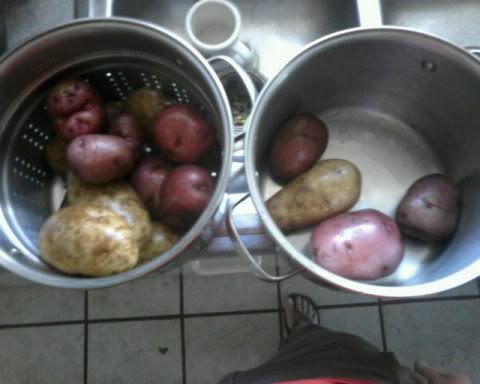 Brian and Carissa's Home made Oreo Cookie ice cream.
A Vegetable stew I made. I forgot the recipe
April has been generous so far. Thanks to Brian, Nikolas, and his mother for filling me with ham and beer on Easter Sunday.
>
I don't know what it is but everywhere I turned this Easter there was swine. Whats up with that? Can some one tell me why ham is the thing on Easter? I have no idea.
Until next time This is ToddyJ saying "One mans garbage is my food."
P.S.
If anyone has pictures of the Kite Flying Robot show last Tuesday can you send them to me?